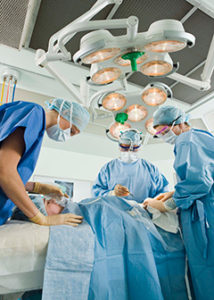 If you are a surgeon looking for a medical billing company that medical billing service should increase your reimbursements. In fact, a physician billing service should be more efficient and effective at medical billing then your own office.  Doing medical billing for surgery is at the core of PHR's billing practice.
Preferred Health Resources is a HIPAA compliant medical billing company that will make your practice more profitable. We will increase your receivables and decrease your expenses. And how can we be so sure?
PHR has knowledge specific to medical billing surgery issues. For example, a very important issue for surgeons is bundling. Often an insurance carrier will claim that a procedure is included as part of a global fee. PHR doesn't just take this at face value. We check the coding versus the Medicare guidelines and inform the carrier if that procedure isn't bundled and proceed to bill for each procedure separately.
Medical Billing for Surgery Needs Expertise
Preferred Health Resources is aware most recent Medicare regulations and changing policies as they relate to orthopedic billing, including frequency limits and qualifying ICD-10 codes.  (Yes, if your practice is still transitioning from ICD-9 we have the crossover processing to help resolve this coding)
PHR is ready to dealing with the medical coding and billing for surgeons which is so complex. There are states and numerous CPT codes to cope with in order to accurately submit your claims.  Depending in your practice, you will need to itemize ASC processes together with bills for office services and hospital visits. You'll also likely have to invoice to get a Physician Assistant which brings an alternate sort of charge to the table.
Our account managers possess the experience essential to make sure consistent cashflow will be maintained by your operation practice while increasing collection rates. Your account reps and PHR management are going to provide feedback on coding scenarios that want consideration and correction that is potential to aid drive higher revenue.
PHR Knows Surgical Modifiers
PHR understand about the correct use of modifier codes can also mean the difference between getting paid for surgery or not. Medicare and many other carriers will not pay on surgery if it takes place within 90 days of a previous operation, claiming its part of the Global fee. The use of the 78 modifier (related) or the 79 modifier (unrelated) will clear the way for payment on follow-up surgery.
The proper utilization of modifier codes also can mean the difference between getting paid for operation or not.
PHR Deals with Bundling
PHR has knowledge unique to medical billing operation problems. For instance, an essential problem for surgeons is bundling. Frequently an insurance insurance company will maintain a process is contained within a worldwide fee. PHR doesn't take this at face value. We assess the coding versus the Medicare guidelines and notify the insurance company and continue to bill for every single process individually.
For example you can charge for all aftercare called for and for your services, your PA's services. We help to track the charge intervals to be able to ensure that services are charged accurately.  We are acutely aware that these charges may have to be "found" on systems besides your name practice management system, track these down too such as
Supplies
Injections
DME
X-Rays
Office and Hospital Consults
Then there are complications which can be missed due to problems in monitoring services. Let's just call them gotchas"
Not gathering the correct co-pays during the period of service.
ICD-10 codes which aren't covered underneath the LCD's for your region.
Poor documentation that will influence the aptitude file appeals for medical necessity
The need for greater specificity is required by CMS for claims filed in ICD 10-CM/PCS. The older grace period has ended and you can expect the careers to shortly follow suite, if they haven't already.
Charging and right coding for every one of those services is essential.
Real Medical Billing Experience – With Follow-up
At Preferred Health Resources our account executives have an average of ten years at medical billing.  Their knowledge, ability, and dedicated follow-up is why at Preferred Health Resources, our adjustment rate is consistently lower, as low as 12% with Medicare. At PHR we achieve A/R rates for our practices that are higher than the industry average.
By using Preferred Health Resources, you and your staff can free up your time.  You and your personnel can concentrate on your medical practice, and use that time to see more patients.  And there is the additional benefit of freeing up valuable office work-space.
PHR is getting ready for MIPS
We are also forward looking, we know that effective January 1, 2017, the Meaningful Use (MU) Electronic Health Record Incentive Program, Physician Quality Reporting System (PQRS), and Value-Based Modifier (VBM) program will be consolidated into the new Merit-Based Incentive Payment System (MIPS) program. The CMS will set a performance thresholdscore each year that equals the mean ormedian of all eligable clinicians (EC's) MIPS scores from a prior period.  We can provide the reporting to help you decide on what track makes the most sense for your practice.
Are you Reducing your Expenses?
Preferred Health Resources clients reduce their back office expenses by using our Practice Management Software package.  All you need is a PC and access to the Internet. Our Practice Management Software is all-inclusive, even our billing application is part of our standard service. There are no costly software updates or support fees.  There are no hidden costs or additional charges.  Or we interface with your EMR/PM system, or even learn it so there's a total handshake with your practice.
Preferred Health Resources is a unique medical billing company. We offer a complete business solution to your medical billing and practice management needs, and we do it all for one fee. All the Services and Benefits you receive are included, even your overnight mail for shipping your demographics.
Finally, according to the Dermatology Times, the average medical billing company fee is 8.5% nationwide.  Our fee is below the national average. Our goal is simply to provide the highest return on your claims, without sacrificing service or patient support, at a competitive price.
For a Free Consultation Call
(877) 877-6900
If you're a surgeon searching for a medical billing firm that improves your reimbursements you should call PHR.  Preferred Health Resources does medical billing for surgery that is customized for you, your office and patients is what we do best.