(Last Updated On: October 25, 2017)
OK, so I said I would take a deeper dive into the new bill just introduced in the House to replace the ACA.  The bill to replace Obamacare is HR1275.  It is actually called in the bill:
SECTION 1. Short title; purposes; table of contents.

(a) Short title.—This Act may be cited as the

"World's Greatest Healthcare Plan of 2017".
Meanwhile at the announcement by Speaker Paul Ryan and other house leaders they had a banner and announced it as:
"American Health Care Act"
Here's a picture from the official launch by the leaders in the house: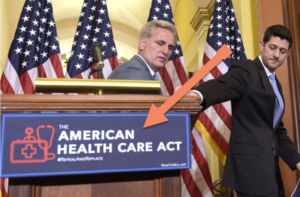 If you examine the other section of the bill, there seems to be another title.
"TITLE I—ENERGY AND COMMERCE
Subtitle A—Patient Access to
Public Health Programs
SEC. 101. THE PREVENTION AND PUBLIC HEALTH FUND.
(a) IN GENERAL.—Subsection (b) of section 4002 of
the Patient Protection and Affordable Care Act (42
U.S.C. 300u–11), as amended by section 5009 of the 21st
Century Cures Act, is amended"
So that's three different titles.
Where is the Patient
I thought this was interesting.  Within the two bills I did a search on the word patient and if you take away the use of Patient in the full name of the ACA, "Patient Protection and Affordable Care Act"  and you get rid of inpatient and outpatient you find:
The Word "Patient" doesn't Occur Anywhere in the Document in HR1275 and once in the Energy portion
AMA Rejects the World's Greatest
The American Medical Association, the largest association of doctors warned Speaker Ryan and the rest of the House Management team that the Obamacare replacement plan introduced earlier this week is "critically flawed" and puts millions of Americans at risk of losing their coverage.
Andrew Gurman, President of the AMA, said that insuring as many people as possible keep healthcare.  Dr. Gurman complained this impossible with the "World's Greatest Healthcare Plan of 2017"  That it presently impossible to determine who many people would get or loss coverage, echoing earlier complaints about the lack of grading by the OMB.
---
Associated Links
---