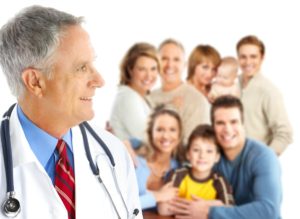 Family Practice Billing – PHR Processes Everyday
Our team will handle charge posting, patient billing functions and billing inquiry calls in addition to guiding doctors and their staff through the medical billing process; from charge entry, insurance claims submission and denial management to revenue follow-up and payment.
Family medicine also differs from other types of specialists because children and elderly patients can be seen and entire families often see the same doctor for added comfort and stability.
Most family physicians are skilled in the areas of gynecology, obstetrics, pediatrics, internal medicine, geriatrics, and psychology. This fact of life just totally disproves the idea that billing for Family Medicine is simple as compared to other medical specialties.
20 Years Dealing with Billing Challenges
PHR's 20 years of experience in Family Medicine revenue cycle management helps optimize collections for CLIA waived tests (such as UA, glucose finger sticks, injection administration fees for diagnostic injections and vaccinations), and understand the billing nuances of E&M ("sick" visits) with preventive/routine exams.
E&M – Family Medicine Gotcha
PHR offers your practice expertise, convenience and responsiveness.  Yes, we help your practice to avoid E&M under and over-coding, who needs an audit!  Unlike specialists, family physicians are skilled at recognizing and treating many different types of ailments and injuries in patients of all ages. We know you have a "big" superbill and we track wide variety codes like a blood hounds.
The range of services available at family practice offices makes it very difficult for physicians and staff to stay on top of the correct and current coding for all of the procedures and tests provided to a given patient. We often find that physicians begin using certain codes that are seen as "safe" in many different scenarios because they consistently go unchallenged by insurance companies. PHR professionals double check your practice to spot and correct mistakes.  We warn your office if we believe you'll get caught in an audit at a later time.
PHR Stays on Top of Your Family Practice Billing
Our team has the kind of experience necessary to ensure your Family Practice practice will maintain consistent cash flow while increasing collection rates.  Preferred Health Resources offer a three-dimensional sphere of medical billing specialties that provide comprehensive support for the busy family medicine practice demands his or her attention 24 hours a day, seven days a week. In addition to professionally and accurately submitting all your claims, Preferred Health Resources also provides the following services for one, performance-based fee:
Personal responses to all patient billing questions
Generation and mailing of patient statements
Rapid posting of reimbursements
Customized monthly statistical reports and spread sheets tracking business activity and productivity
Application of effective collection procedures to promote remittance of outstanding receivables
Collection and analysis of patient information
Evaluation and recommendations for fee structuring strategies
Over 1,200 different type of reports are available to all practices
Your practice wants and receives  highly accessible use of an account representative that understands your practice inside out. You and you ought to anticipate your bill service customer support section and immediate accessibility, respectively in the event of crises.
As one of the most unique and distinguished medical billing companies in the industry, Preferred Health Resources offers thorough solutions to all of your billing needs. For one fee, your practice receive the benefits of working with an experienced medical billing company that takes pride in providing clients with consummate professionals possessing years of experience in the medical billing industry.
Outsourcing medical billing claim submission to PHR maximizes office competency and minimizes the expense of backlogs. Your practice will also no longer have to worry about rising overhead expenses, upgrading computer software, pursuing denial of payment claims or inadvertently violating HIPAA guidelines. Additional benefits provided by Preferred Health Resources include:
Assignment of a personal account executive
Personal response to questions (no voice recordings)
Daily submission of claims electronically
Productive and assertive follow-up on all claims
PHR will bill off of your EMR or billing system.
For a Free Consultation Call
(877) 877-6900
Experiencing significant loss of revenue due to billing issues is both unnecessary and rectifiable. PHR's experienced staff of authoritative medical billing and claims processors are always prepared to fight for its clients to get the best reimbursements from all carriers. Let Preferred Health Resources take charge so you know your claims are being managed professionally and with a personal touch.